"Shelley"
Fare well ~ September 14, 2004
Shelley, enjoying a day in the garden
Shelley's age and pedigree were a mystery. She came into our lives by way of an ad in The Penrith Press. A young mother felt she didn't have time to offer to Shelley, luckily we did. Shelley traveled in our pack from Emu Heights, Australia to Boston, then LA and finally settled in San Francisco.
Whenever anyone asked if she was really a Labrador disguised in a saluki outfit because of her outgoing nature and constantly wagging tail, I thought at least she's got the nomadic part down pat. Shelley lived her life with graceful enthusiasm. We loved her immensely and her presence in our daily life is greatly missed.
With love and heartache from
Shelley's Mom and Best Friend
Leslie Shields
Shelley and her house-mates do the gardening


"Tickle Me Shelley"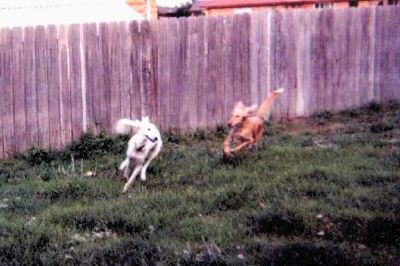 What Salukis Love Best....

Close This Window to return to the page you entered from.