"Judah"
Ch. S-Akkad Judah ben Sahil
beloved friend and companion of Sherri, Steven, Shah, Siren,
Tristan and Madelaine Chapman.
Who embarked on his Spirit Journey
29th September, 2003
Judah (right) cuddles with little sister, Siren.
Judah (also aka "Judah Buddah Butthead", "Oingo Boingo" and "the Anti-gravity Dog")
was a marvelous, truly unique Saluki, and I miss him terribly.
He had a brief but wonderful show career, finishing his championship
quickly with four majors (5,4,4,3 points), including an ASA Bronze
Medallion along the way. He was my buddy, my watchdog, my protector,
and my goofy boy. None shall ever replace him, in personality or
presence. I feel honored to have known and loved him, but just wish
our time had been longer.
With heart-broken love,
--"Mom"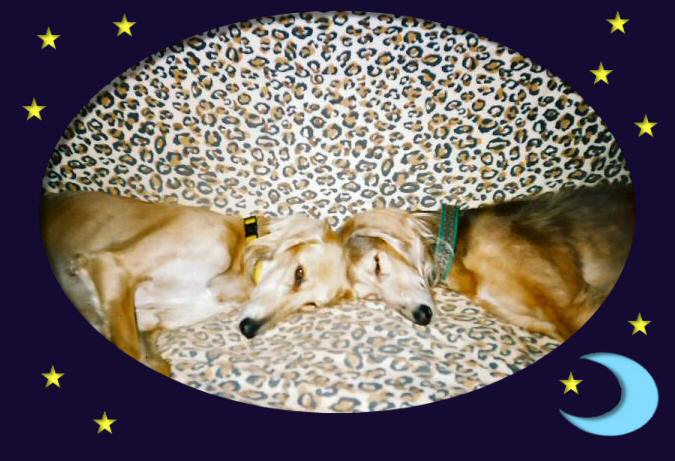 Judah (right) and Shah, head-to-head naptime
Judah-Buddah, my buddy boy, it has been a delight and a pleasure to know you.
Your courage is inspiring. Your devotion unparalleled.
Thank you for allowing me to be your friend.
--"Auntie Gayle"