Mary, Elise, and "Skipper"


Those old timers who frequented the Saluki scene in the 1960's and 1970's all knew Mary Bisson and her Kasbah Salukis. Mary showed numerous Salukis to their U.S. and Canadian championships "back in the day". In later times, she owned Dianna, littermate to Emily, Lillee and Dancer, thus bringing together a new "Saluki family" all our own. When years gathered behind her, and she became unable to truly care for a large dog, little Skipper, the rescued Mini Dachshund, graced her life and made her days joyful. The little golden Saluki sisters are gone now, and we know our Mary is happy to take good care of them for us, till we all meet again. Sleep well, dear friend, and may spirit-hounds surround you with joy.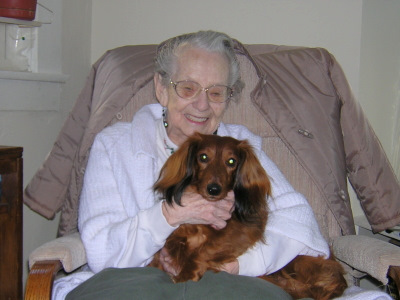 Little Skipper, always happy to care for his Mom
"As I've said many times, Mary was the Princess of Salukis - her soul was entwined with theirs. (Elise Shartsis)"
"Thank you, Mary, for making sure my dear Sasha found his way home after his momma, your sister and my friend, passed away. My heart will always be grateful for your generous kindness and your friendship." (Gayle Nastasi)
Now that his momma is gone, little Skipper is in need of a new person to care for.
If you would be interested in adopting him, please email
Elise Shartsis
for information.